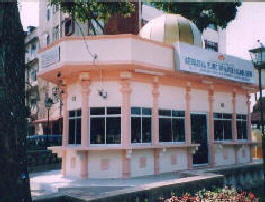 INTERNATIONAL ISLAMIC INFORMATION & DAAWAH CENTRE (IIDAC)
OBJECTIVE
---
IIDAC's principal objective is to disseminate the message of Islam and to dispel any misleading or misconception statements made by those who do not have sufficient knowledge of the religion. Striving in various aspects of welfare work with special attention on new converts to Islam, by organizing religious classes to able the new converts and Muslims in general to obtain a wider basic knowledge and understanding of Islam.
To foster cooperation, close relationship between both Muslims and non-Muslims who wish to know more about the Islamic faith, and to understand each others' religions.
To support the new Muslims for the development and practice of their Islam through Daa'wah training, religious classes and welfare activities. Also collaborate in organizing Seminars with Institutions and Muslims Welfare Organizations who share the same interests.
Promoting better understanding of Islam to both Muslims and non-Muslims to work together in the true spirit for the betterment of Muslims and to see that the message of Islam reaches the whole humanity.
We hope that this Centre would be dwell in the heart of every non-Muslims and Muslims alike, and that every invitation will be a successful one, with Allah S.W.T Mercy and Blessing to all.